Ya'll probably read the title and thought, "This girl is trippin', why does she love staying in hostels?" Having stayed in quite a few hostels throughout my travels, I think they often get a bad rep. Don't get me wrong, I love staying in Airbnb's and hotels, but I think hostels provide many benefits that people aren't aware of. Below, I'm sharing why I love hostels in hopes you consider it as an accommodation option for future travels. I'm low-key trying to have everyone feeling like 50 Cent in his "In Da Hostel" ad 😂.
---
What Hostels I've Stayed in
Most of the hostels I've stayed in are in Europe as it's fairly common in Europe to stay in hostels. Please note: I'll be updating this list in real-time.
Black Swan Hostel – Barcelona, Spain
Baxpax Kreuzberg Hostel – Berlin, Germany
Wombats City Hostel – Munich, Germany
Czech Inn – Prague, Czech Republic
Doolay Hostel – Phuket, Thailand
---
Why I Love Staying in Hostels
1. Price
Probably the biggest reason I consider hostels when traveling. The price for a few nights in a hostel is significantly cheaper than a hotel and an Airbnb. I've never paid more than $45 for a bed in a hostel. When traveling, I barely spend a lot of time in my accommodation, which is why paying a ridiculous amount of money for a hotel room isn't appealing to me.
2. Amenities
From pools, game rooms and even a bar and restaurant – hostels provide really dope amenities. Despite what many may think, most hostels aren't dirty and sketchy. Or at least not the ones I've stayed in. There's a lot of hostels out there that provide different vibes and benefits. All the ones I've stayed in provide kitchen access so you can cook food, a common room to meet and interact with others and free wifi.
3. Location
Most hostels are conveniently located in the city center, giving you the opportunity to walk to most prominent landmarks. Black Swan Hostel, for example, is close to Arc de Triomf and Plaça de Catalunya. I was able to walk to most landmarks without having to waste money on public transportation or a taxi.
4. Breakfast
Room charge sometimes covers breakfast. In my experience, breakfast includes: cereal, juice, fruit, tea, coffee and some sort of fresh carb (e.g. bread, croissant, etc.). If you're traveling on a budget, having free breakfast allows you to spend money on other things. I've even taken fruit with me on tours so I don't have to waste money on food.
5. Travel Advice and Tour Guides
The wonderful people working in hostels are great to talk to if you're looking for insight on the best places to eat and have fun. These workers can be a mix of locals and travelers who love the city, so you can trust that their suggestions are genuine and aren't scamming you. Some will even go out of their way to book things on your behalf, at no additional cost to you. And since most hostel front desks are open 24/7, they're available to you whenever you need!
Depending on what hostel you stay in, you may also be able to take advantage of the free tours they offer. At Black Swan Hostel, they had free walking tours every morning. They also offered a sangria and paella cooking class, which only cost €5, and a free pub crawl at night. These are great opportunities to safely meet other people if you're traveling solo.
6. Getting to Interact With Others
Hostels are a great place to meet others if you're traveling solo, or even traveling with friends or your spouse. I've met couples, solo travelers, retirees, family and friends at hostels. Despite what most people think, hostels aren't just for twenty-somethings who are looking to party. And contrary to popular belief, not all hostels are wild and crazy party hostels. I've stayed at places that provide laid-back vibes, like Doolay Hostel.
I've personally made great connections with people in hostels. I've met someone looking for an apartment in Berlin who was explaining renting in the city and how competitive it's. I was able to go to Thailand late last year due to creating a friendship with someone I met in a hostel a year prior. I also visited someone in their hometown after meeting them in a hostel. Hostels allow you to meet and make connections with people you wouldn't have otherwise.
7. Safety
This might be a big concern for anyone looking to stay at a hostel. I believe that hostels are very safe, especially for solo travelers. Most hostels have a gate, code or camera in front so that only people who are staying in the hostel can get in. For instance, Baxpax Kreuzeberg hostel has a camera outside that monitors who's buzzing in, especially late at night. If you're coming in late, you have to show your room key card to the camera in order to get buzzed in. Most of the other hostels I stayed in gave me a key card to access the building, then a separate key for my room.
Hostels also provide lockers for you to store things, but be sure to bring your own lock or else you'll have to pay to rent one. And if you're too early for check-in, or checking-out before your flight, hostels usually have a storage room for you to keep your luggage until it's time to check-in or head to the airport.
---
Tips for Booking & Staying in Hostels
Bring Your Own Lock, Towel and Shower Sandals
As mentioned above, most hostels provide lockers to store your things. However, most hostels don't provide locks for free, so be sure to bring your own. The only hostel I've stayed in that provided a lock was Black Swan hostel. Some hostels also don't provide free towels, make sure to double check if yours does. Since I stay in hostels often, I bought a travel towel that takes up minimal space in my luggage and dries quickly.
You should also pack shower sandals, this tip really isn't optional IMO. Most hostels have communal, or as I put it "dorm-style", showers. I always pack a separate pair of cheap sandals for showering because you're ultimately sharing showers with 4+ people who all might have different hygiene standards. While hostels do clean their showers everyday, they're still many people using the facility in between that time. Just do yourself a favor and bring shower sandals. If you have a private bathroom, you don't need to really worry about this.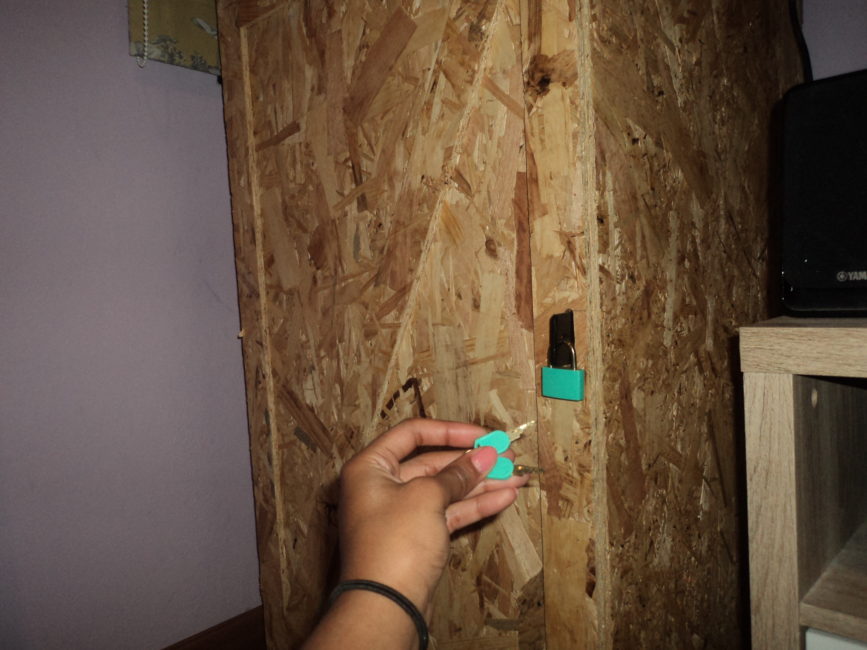 Hostel World provides a huge catalog of hostels you can book. Once you know where you're traveling to, you can search for a hostel by looking through the amenities offered, location, room type, hostel rating, etc. If you book through Hostel World, be mindful that you don't typically pay the full-price at checkout. You pay a portion at checkout and pay the rest once you arrive at the hostel. I would advise bringing cash in that countries currency as you may be charged by your bank if you pay with your credit/debit card.
Pick a Hostel & Room Type That's Comfortable for You
Picking a hostel that fits your vibe is important, I advise doing research on what's offered and the atmosphere. I usually read reviews and look for photos on TripAdvisor, Hostel World, Facebook, Instagram, etc.
When booking a hostel, you'll find that most offer co-ed and single gender rooms. You'll also find that some hostels offer 10+ people in a room, while others offer two people in a room. Choose the room type that will be most comfortable for you and your friends, spouse, family. I've stayed with friends in a 16-person mixed room (there wasn't 16 people occupying the room everyday), I've also stayed alone in an 8-person female room. Both experiences were perfectly fine for me, but preferences differ for everyone.
Disclaimer: This post contains affiliate links that may earn me a small commission, at no cost to you if you purchase something. I only promote items that I personally use and love, or think my readers will find useful.
Do you love staying in hostels? Let me know why below!