If you read my previous post about my first trip to Edinburgh, then you know I wasn't there for more than 24hours. So I planned another trip to visit my friends in Edinburgh while they finished out their graduate programs.
Here are the things I did while in Edinburgh for 72 hours:
---
what to see/do:
Royal Mile Market – A market that sells things such as: jewelry, wool clothing, books, pottery, and souvenirs. The market used to be a church, which is obvious when you see the building structure – specifically the windows. I bought a scarf for myself since my mother had so many good things to say about the one I bought her the first time I came.
Arthur's Seat – Arthur's seat is an extinct volcano situated in Edinburgh's city center. The mountain gives you an incredible view of the entire city of Edinburgh. It's free to hike up the mountain, and it's relatively easy to climb. Anyone who knows me knows I am terrified of heights! The hike up and down however, wasn't scary – so this is totally doable for anyone! However if you're short, like I am, you might have a hard time walking up the steeper steps. You should also remember to dress appropriately. While you might get hot during the hike, it'll get cold and windy once you make it up top. It takes about 2-3 hours to hike up Arthur's seat, especially if you're out of shape like I am , so plan accordingly.
Royal Mile – I explained the Royal Mile in my first Edinburgh post. This time going I saw a man holding an owl  – of course I had to get a picture! It only cost £3 to hold and take pictures with the owl. By the way – the owls name is Hazel, and she's very sassy (literally my spirit animal).
Nightlife:
Stramash – A live music pub, Stramash has different acts come on stage to perform. When the bar began closing, a girl came up to me and asked to dance in exchange for glitter. If you read my Berlin post, you'll remember I went on a bar crawl and met the 'unicorn lady' who had glitter. So I felt it was only right to keep up with this tradition of having glitter put on my face!
---
where to eat/drink:
Ting Thai Caravan – This is the same cheap Thai restaurant I went to the first time visiting. The food was as good as I remembered! This time the small restaurant was fairly crowded and had a pub vibe with loud music. I ordered the Tom Yam Gai, which has: chicken mushrooms, tomato, noodles, etc.; my friends ordered pad thai and beer. We all shared sweet potatoes fries, with this secret sauce, because they're out of this world!
Yum Yum Kebab – A middle eastern restaurant; Yum Yum Kebab sells kebabs, falafels and french fries with the optional curry sauce and cheese on top. The curry sauce was gone once we got there – so I settled for cheese and barbecue sauce on top.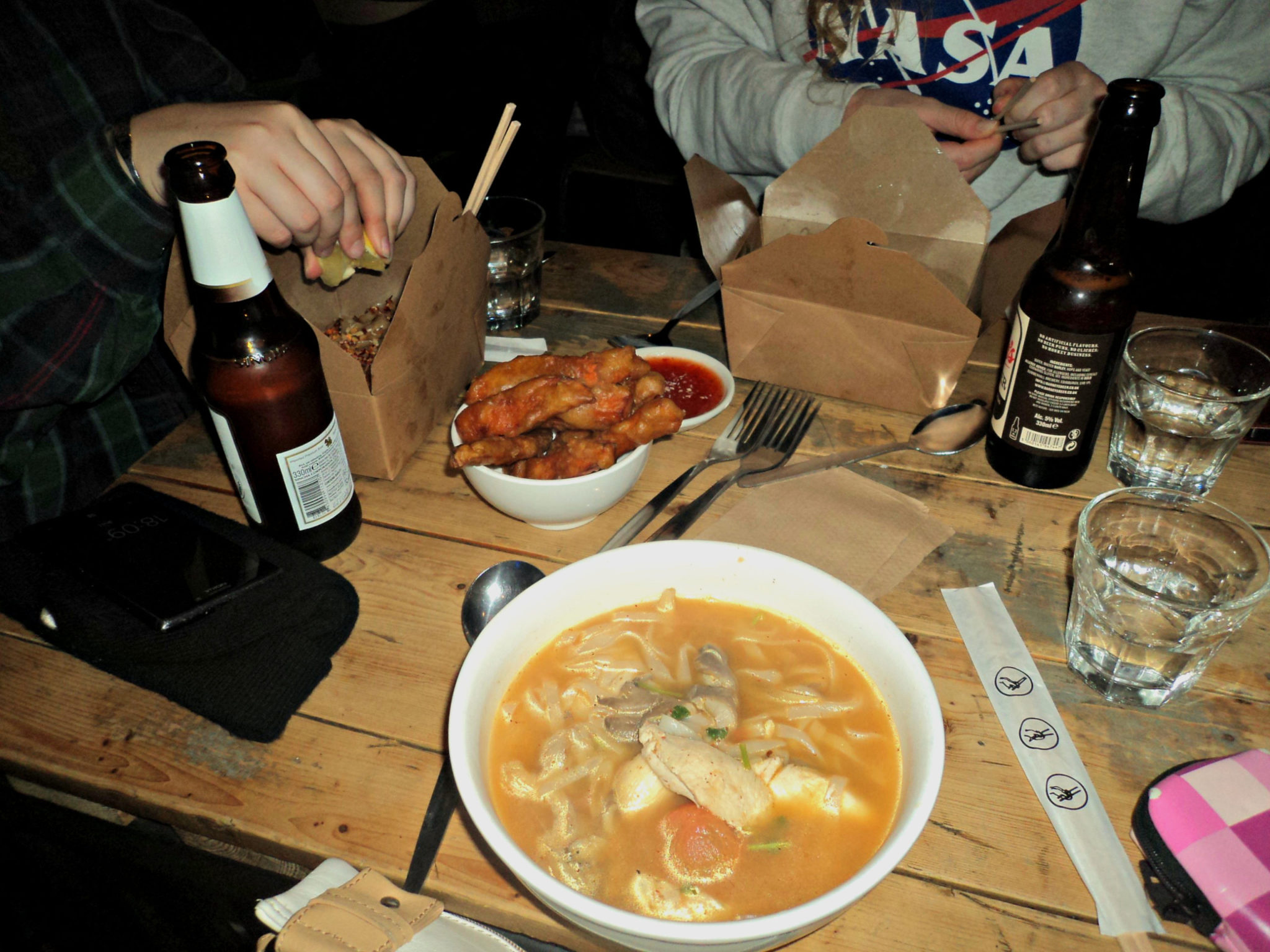 Wings – A restaurant located off of the Royal Mile that serves wings (clearly). This restaurant has an assortment of dry rubs and sauces you can choose from; those dry rubs and sauces can be put on your wings, french fries or deep fried cheese! The menu is divided by different categories (e.g. BBQ, sweet, sizzler) and within each category there are different levels of heat the sauce/rub provides (ranging from 1-11) . If you're able to finish the level 11/suicide sauce, then you get a place on their "wall of flame". Not only were the sauces I tried amazing, but the nostalgic atmosphere of Wings is also a plus! There are images of comic book figures and old films such as: Star Wars, Bad Boys, Power Rangers, etc.; There's also Nitendo 64 systems on tables where you can play: 007 GoldenEye, Donkey Kong and more. This restaurant is basically my childhood manifested!