Overall experience:
This was my second time in Spain and, once again, I had an unbelievable time. Barcelona was everything I expected it to be as the cosmopolitan city – and more! From the: architecture, cheap food and drinks and warm weather – Barcelona definitely gave Madrid, Sevilla and Cadiz a run for their money as my favorite place in Spain (Canary Islands is on a different level!). I definitely will be back in Barcelona one day – most likely when Sagrada Família is finally complete.
---
Getting Around:
Everything in Barcelona is easily accessible through their public transportation. If you're going to be in Barcelona for a few days, I would recommend getting a travel card – which are available for 2, 3, 4, or 5 consecutive days and can be used unlimitedly on their public transportation. If you're not going to be there long and don't see the point in the travel card, I would recommend buying the T-10 card at the metro station – which allows you to ride their public transportation 10 times. If you don't want to ride the public transportation system, you can also take taxis for fairly cheap as well. There are taxis all over the city, so you won't have any problems hailing one.
Since my hostel was close to Plaça de Catalunya, I didn't need to use public transportation as frequently – and decided to walk to most of the local landmarks. If walking and using public transportation isn't your forte, you can also rent a bike for cheap.
---
Food & Drink: 
Barcelona, like other places in Spain, is best known for their tortilla española, paella, tapas/pinxtos and sangria. All of their food and drink options are relatively cheap – so you don't have to worry about all your money going towards food. If you read my first post about Barcelona, then you'll know that La Boqueria Market is the perfect place to go for fresh produce – it provides a preview of some of Barcelona's best in one hub.

---
Money:
Barcelona, and Spain in general, is a relatively cheap country. Although Spain is part of the Euro Union, which is usually stronger than the dollar, Spain's economy is different than its other EU counterparts. As mentioned above, transportation, food and drinks are very cheap in Barcelona, and Spain in general. You might potentially lose most of your money to entrance fees into the different works of Gaudí, which can be fairly pricey (e.g. the basic entrance fee to La Pedrera is €20.50).
---
People: 
Since I lived in Madrid for a while, I am a bit bias when it comes to Spaniards but I find them to be extremely friendly people! When I was shopping around La Ramblas, I was leaving a store and beeped when passing the metal detectors (I was carrying my GoPro & digital camera in my purse 
). I asked the security guard "tu habla ingles", to which he smiled and said "no". Instead of making the situation uncomfortable for the both of us, the guard simply asked if he could look through my purse, which I obliged. He searched for 2 seconds, smiled and then let me go with no issues. Even though he didn't speak English whatsoever, and my Spanish wasn't the strongest, he was still patient and had a smile on his face the entire time. Just one of the many times I encountered very friendly people while in Barcelona and can attest to how nice the citizens are. There are many people in Barcelona who do speak English though, so don't be disheartened or intimidated to go to Barcelona – especially by yourself!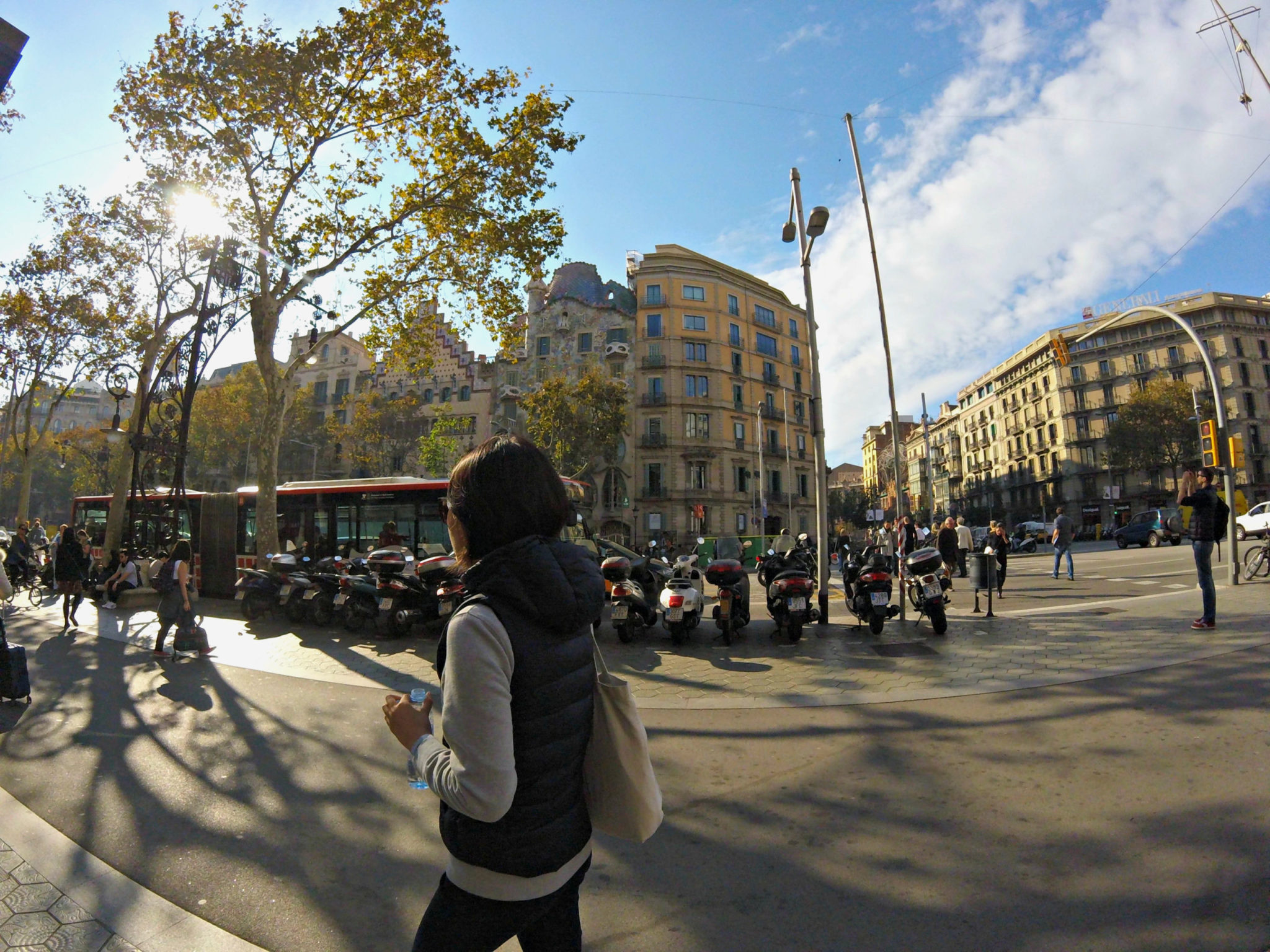 ---
Safety: 
Barcelona is relatively safe, crime is very low in this city. In retrospect, it's a big city so be mindful of your surroundings like you would in: New York City, London, Madrid, Berlin, etc. The biggest thing to be aware of in Barcelona is pickpocketing, Barcelona is infamously known as the "pickpocket capital of the world." I personally did not witness, or experience, pickpocketing while in Barcelona – but I also visited during its off-peak season, so the atmosphere is probably completely different in the summer when it's peak season. Also, I remained vigilant while I was there, making sure I was aware of my surroundings and my personal belongings.
---
Other tips/advice: 
It's fairly warm in Barcelona year round, even during the autumn season, so you don't have to wear a lot of layers
If you're looking to get into the city from the airport, the Aerobus is a cheap and simple option. It takes about 45 minutes to get to the city center – I ended up buying a return ticket for €10.20 (single ticket is €5.90), meaning I could also use the same ticket going back to the airport. Also, the Aerobus runs every 5 minutes so if you miss one there will be another one coming
While many people in Barcelona speak Spanish, the official language is actually Catalan. When you arrive, you'll notice this on the highway signs and many other places which usually displays: Catalan, Spanish then English – in that order