When your curls are feeling dry and lifeless – that's when you know it's time to give it some TLC! I wash my hair once a week because my scalp tends to get itchy and flaky by day 4-5. My hair overall will feel weighed down by product buildup. I choose to wash my hair on the weekends because I can take as long as I want. Whereas, if I wash during the week I'd have to rush and ensure my style is dry before work. Nothing is worse than unraveling your hair from a twist/braid-out, bantu knots, etc. when it's still wet.
Below is my step-by-step guide of my wash day routine and the products I use:
---
Pre-POO TREATMENT & Detangle
A pre-poo treatment is when you apply some sort of conditioning treatment to your hair prior to washing with shampoo. Pre-pooing helps moisturize your hair and gets it prepared for the wash day process. Which can consist of washing, deep conditioning, styling and the manipulation that comes in-between. Pre-pooing is crucial since your hair will be stripped of oils through the shampooing process. I usually leave my pre-poo treatment in for 30 minutes to a couple of hours.
Lately, I have been pre-pooing with Apothikarie's Triple Threat Magic Serum. This serum is loaded with so many beneficial oils such as: coconut, shea butter, peppermint, tea tree, olive oil – and more! This serum has worked wonders on my hair when pre-pooing. And I'm not just saying that because this product is made by a friend of mine 
.
When getting my hair ready to wash/shampoo I: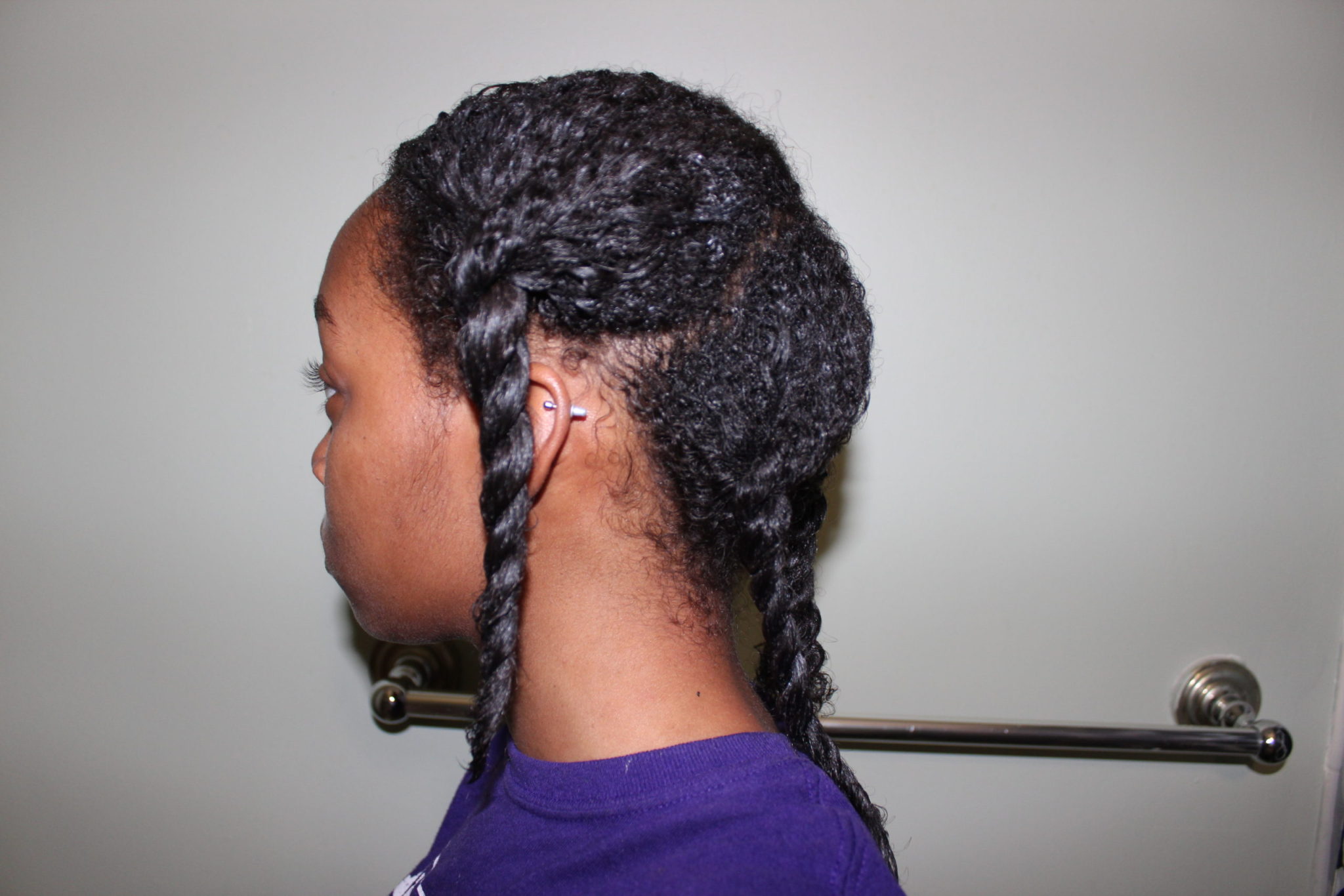 Section hair in four parts and apply Apothikarie's Triple Threat Magic Serum. Your sections don't have to be even.
Detangle hair using my Q-Redew hair steamer; the prongs of the Q-Redew are perfect to comb through your hair! Just make sure you're combing from your ends and making your way towards your roots.
Twist or braid each section of hair once they're fully detangled.
---
When shampooing my hair, I only lather the product on my scalp. That's because that's where my hair is the oiliest. Shampooing the ends of your hair isn't necessary because the ends are the oldest and driest part of your hair. Shampoo will only dry the ends out more. Allow the water to do its magic with cleansing the length of your hair. Also, when shampooing I dilute the product with water so it isn't drying my hair out as much.
When Shampooing my hair I:
Unravel one braid/twist at a time and shampoo my scalp with my favorite shampoo (Lately, I've been in between Shea Moisture's Manuka Honey & Mafura Oil & Jamaican Black Castor Oil lines)
Re-twist/braid that section and continue this process through each section
I only try to use my shampoo once since that typically gets my hair clean and doing more than one lather may dry out your hair too much. But if you feel like you need another wash, I'd recommend using a co-washing product instead. I typically use Cantu Natural Complete Conditioning Co-Wash, but decide what product will work best for your hair
---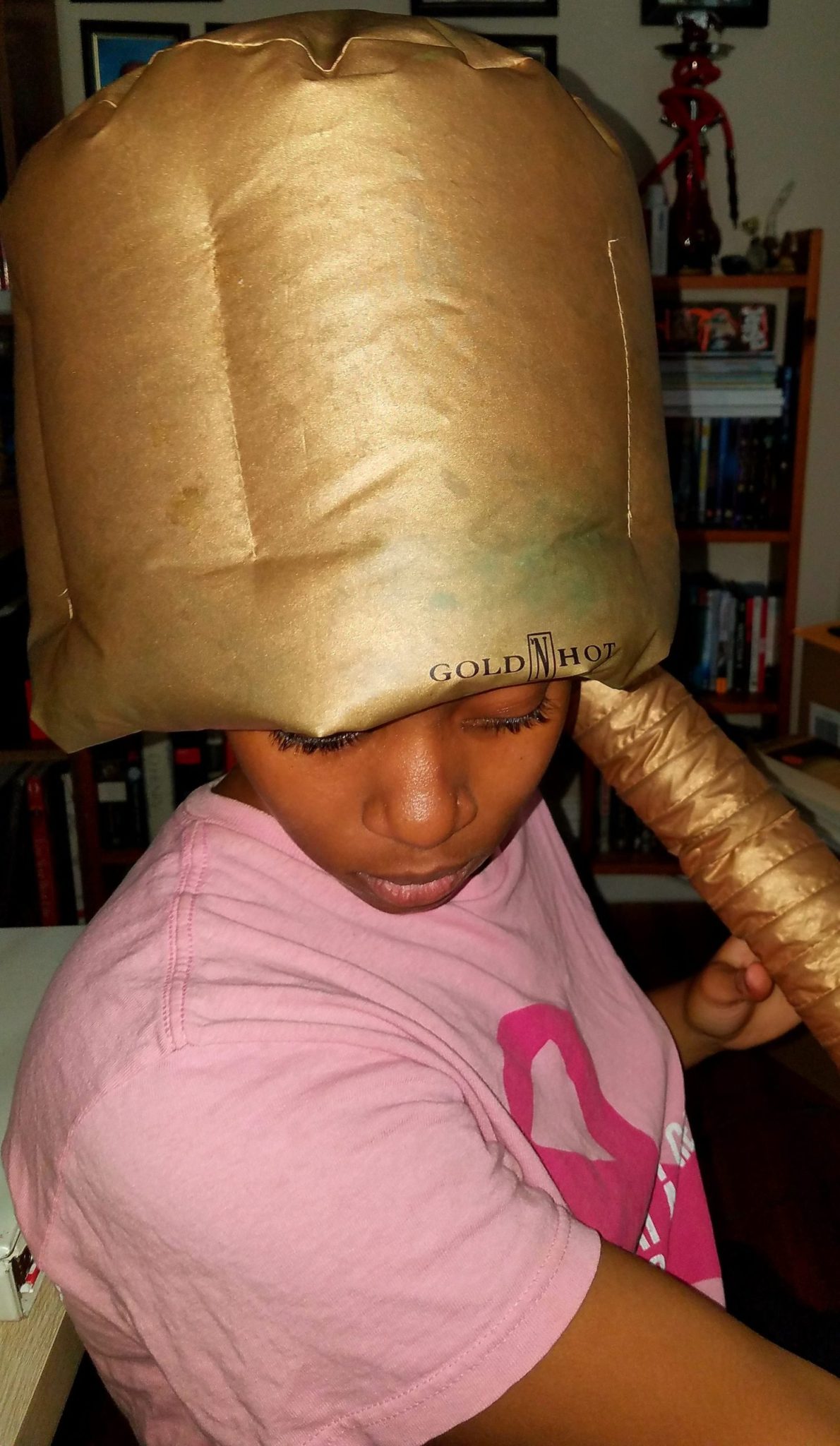 After shampooing, I dry my hair off using a cotton t-shirt. I use a t-shirt because a towel can can cause split ends and breakage . It can also make your hair feel rough/dry. But, if you can't live without a towel I'd recommend investing in a micro-fiber towel. I'm cheap so I just use a cotton t-shirt to dry my hair 😅.
WHEN DEEP CONDITIONING MY HAIR I:
Apply my deep conditioner (DC) treatment; as of late, I've been using Shea Moisture's Manuka Honey and Mafura Oil Intensive Hydration Hair Masque. Make sure to focus on the ends of your hair when applying the DC treatment as your ends are the oldest part of your hair.
Attach my Gold n' Hot bonnet dryer attachment to my blow dryer and sit for 15-25 minutes. You can sit under a normal hooded hair dryer. If I don't have my dryer attachment, or blow dryer, then I'll use my Q-Redew

hair steamer and deep condition section by section. I find that deep conditioning with the Q-Redew boosts moisture in my hair. And makes it very soft. But, if you don't have any of these heating options, then you could:
Apply your deep conditioner
Put a shower/plastic cap on, or saran wrap your hair
Sit around for 45 minutes, or longer, and let your body heat do the work
---
After I finish deep conditioning, I don't immediately wash out the deep conditioner. Instead, I:
Unravel sections of my hair and use a wide-tooth comb to make sure my hair is fully detangled. Combing my hair after deep conditioning is really simple because my hair has extra slip and isn't soaking wet. Manipulating your hair when it's soaking wet can cause breakage.
Apply my regular conditioner on top of the deep conditioning treatment.
Re-twist/braid each section after I finished detangling and applying my regular conditioner.
Rinse with cool water to seal in moisture
Tips
I used to wash my hair in warm water throughout my entire wash day process. But I learned about the cool water method and it has changed the overall health of my hair.
I never fully wash all the product out of my hair. I try to keep some conditioner in my hair to help with retaining softness. Unless I'm straightening my hair, in which I rinse out everything from my hair. Straightening my hair that has a lot of product makes my hair feel heavy and look oily.
---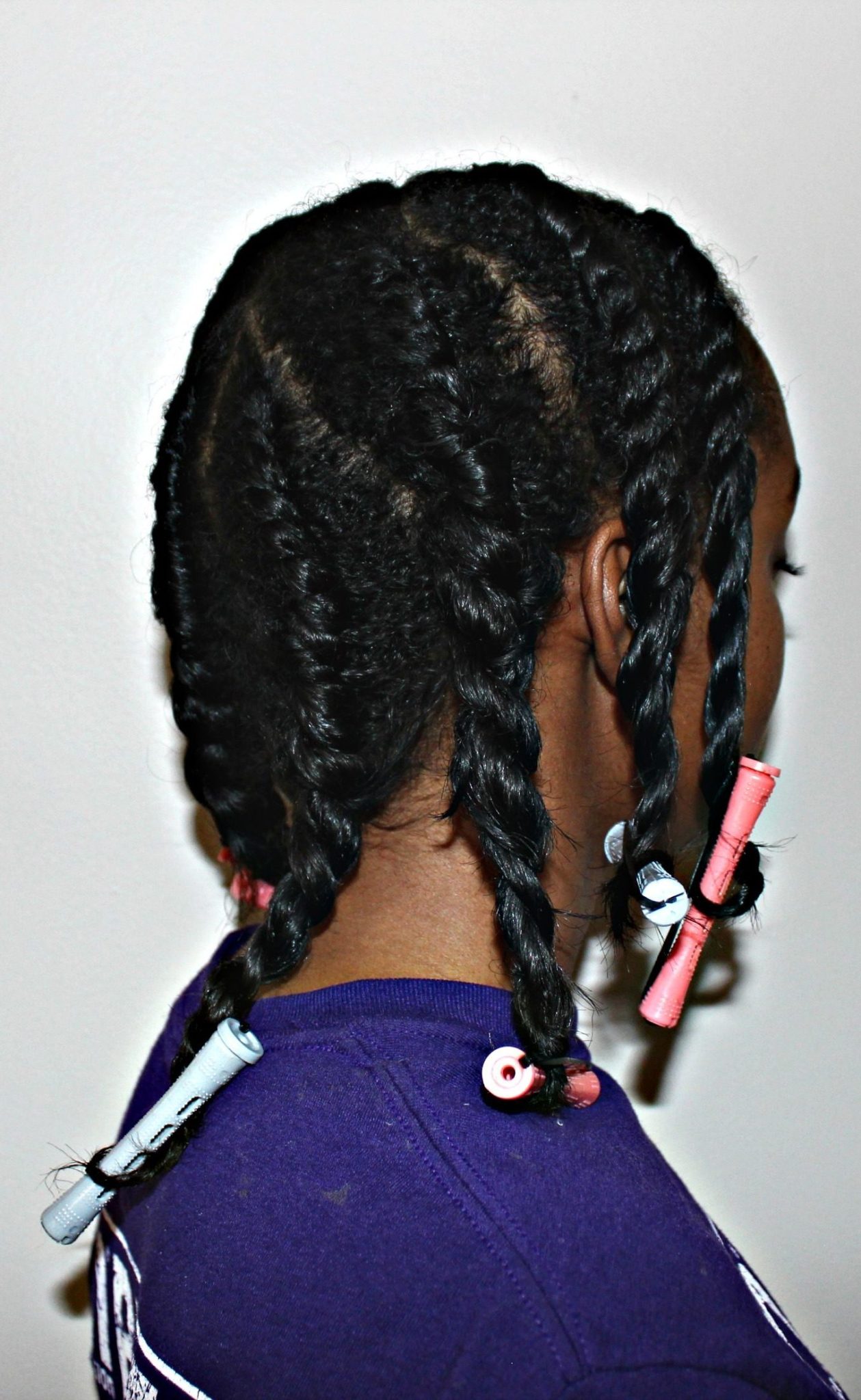 After rinsing, I dry my hair with my cotton t-shirt. I let my hair air dry until it's damp to start styling. When styling, you should try using the L.O.C (leave in-conditioner, oil, cream) or L.C.O (leave in-conditioner, cream, oil) method. Layering your products in the L.O.C/L.C.O method helps to retain the moisture in your hair. My hair personally loves the L.C.O method.
WHEN USING the L.C.O method, I:
---
Other Tips/Advice:
I keep my hair braided/twisted in 4 sections throughout my entire wash day process. Only unraveling when shampooing, detangling and styling. This really helps minimize knots and tangles and elongate my curls.
I do a protein treatment once a month. So when in the deep conditioning step, I add a protein treatment to ensure my hair's strength.
---
What products do you use on wash day? Is there anything interesting you do on wash day ? Let me know in the comments!