Whitney plantation:
8:30am and our driver, Edward, picked us up and began giving us insight to the seventh ward and New Orleans. He mentioned that we should check out a second line parade that happens every Sunday and Wednesday. The second line are the people dancing behind the brass band, people in New Orleans have been doing this since slavery. Slaves only had free time on Sunday's, so they would pick up anything they could (drums, stick, etc.) and play at, what is now, the Louis Armstrong park to enjoy themselves.
After picking up the rest of the passengers (there were only 8 of us) we drove 45 minutes to the Whitney Plantation. On our way there, Edward would point out things that he felt we might be interested in knowing. Some of the most important things I remember him mentioning were:
At one point it was mandatory to learn French in elementary school in Louisiana – but that has since changed with the new wave of politicians who have since banned this rule
The original New Orleans was only made up of the French Quarter
New Orleans is 6ft. below the water level, so law says you have to bury people above ground. When bodies were buried below it would flood and bodies would be found floating
In 2018 New Orleans will celebrate 300 years of existence. This celebration will start January 1, 2018 and end December 31st at 12am (sounds like a follow up trip to Nola!)
After hurricane Katrina, 80% of New Orleans was submerged in water besides the: Garden District, French Quarter and Art District
Side note – There are plenty of tour operators in New Orleans that will take you to the Whitney Plantation. We booked our tour through Legendary Tours, which is a small locally owned tour company. Unlike other Whitney Plantation tour providers who ask you to meet the driver at a certain location, Legendary tours provides hotel pick-up and drop-off for the same price ($65). As you remember from my first post, we decided to stay in an Airbnb – so to ensure we could take this tour, I called the day before to verify if it was okay for us to join and meet at the closest hotel to our Airbnb location. As I now realize, the person I was speaking to on the phone was actually the owner and driver himself. He ensured that it was okay for us to come on the tour and he even offered to pick us up at our Airbnb!
---
German Coast Uprising:
We arrived at the plantation 15 minutes early so Edward showed us a new exhibit that opened two weeks prior. The exhibit is a memorial to commemorate the 1811 German Coast Uprising which was a slave rebellion that took place in the St. Joseph & St. Charles parishes. It was reported that between 200-500 slaves took part in the rebellion in which they killed two white men and caused damage to a number of plantations they came across. Despite the language barrier amongst slaves, they all shared the same goal – getting back at the slave owners that mistreated them. After a couple of days, the slaves were met with troops and local militia and battled for almost half an hour before being defeated. During this battle some slaves fled into the woods or swamps, while the ones who were caught were exiled from New Orleans or beheaded at the plantations they belonged in. Slave masters placed their heads on poles and displayed them at their plantations to discourage another rebellion. This revolt has been called one of the most significant in American history – and yet, I never learned about this in school
. When I visited the plantation, there were 50 heads in the memorial but there are expected to be 90 heads.
After checking out the German Coast Revolt memorial, Edward mentioned a time when this plantation first opened to the general public. Tour companies refused to visit because they didn't like the narrative of slavery. But now, the Whitney Plantation has been recognized nationally and there's a large demand – so tour companies suddenly became interested in taking part of this experience.
---
visitor's center:
Inside the visitor's center is a wall that asks, "What did the tour mean to you?" People could fill out a post-it note after the tour and stick it onto the wall. There's also a gift shop filled with books around slavery, custom made items from Africa and other cool things – and an exhibit inside that explores: how slavery started, why Africans were chosen as slaves, who was involved in selling slaves and more.
---
FACTS ABOUT THE WHITNEY PLANTATION and slavery in general:
There were so many things we saw and heard during our 1.5 hour tour that would make this a lengthy post – but these are the facts I took away from visiting the Whitney Plantation:
This plantation was originally known as Habitation Haydel – Haydel being the last name of the German family of immigrants who owned the property
During Franklin D. Roosevelt's presidency, he created the Works Progress Administration in hopes to create jobs for Americans after the great depression. One of the agencies that joined this administration was the Federal Writers' Project and eventually an African American unit was activated. The people in this unit took it upon themselves to interview former slaves. Most of the people they interviewed were children or teenagers during their time in slavery, the Whitney Plantation displays these stories for visitors to see
85% of the slaves around this plantation came from the West African region
After the slave trade was abolished – Americans started looking to places like Cuba, and other islands, to obtain slaves. Then the domestic slave trade began and people in the deep South (like New Orleans) started to purchase slaves from other states, like North Carolina. They were bought to new plantations by foot with chains on them, which took over 3-4 weeks – and most slaves died during this walk
A lot of slave women at the Whitney Plantation were bought to keep wives and children company. When wives couldn't bear children, a slave would do it for them. Many slave women, specifically in the DC/Virginia area, were forced to breed with men of European descent
Women in the south were forced to have kids between the age of 11-30. And if the slave woman didn't have a child by a certain time period, then they were sold
2,200 children died at the Whitney Plantation with most common causes of death ranging from: yellow fever, malnutrition and malaria
By the age of 10, children were seen as full-fledged slaves
In Louisiana, specifically the New Orleans area, sugar cane was the major crop – but cotton was the cash crop
The phrase "can see to can't see" was common among slaves which basically meant they started working before the sunrise and stayed working until the sunset

Slaves that worked in the field used machetes to chop down the sugar cane, but they couldn't always see what they were chopping so sometimes they chopped off other slaves: arms, legs, eyes, etc.

Any slave that was punished were given a minimum of 25 lashes and received their punishment in public
Many banks and companies, such as AIG & New York Life, benefited from the slave trade 
Almost every jail in America was based off of the jails used during slavery. These jails served multiple purposes:

If a slave owner left for a trip they could pile their slaves into a jail to ensure they would not flee
Unwanted slaves could be sold and housed at the jail until someone was ready to take them
Slave owners who were in town briefly could put their slaves in another slave owners jail

Whitney plantation grew sugar cane, but also any fruit you find in your local grocery store
Food like yams and okra were brought over in ships to help the slaves assimilate
Parts of Django Unchained were shot at the Whitney Plantation
After slavery ended, former slaves were promised currency if they decided to stay and work at the plantation, but the currency was really tokens which only worked at a certain store/location
---
A Night on Bourbon Street: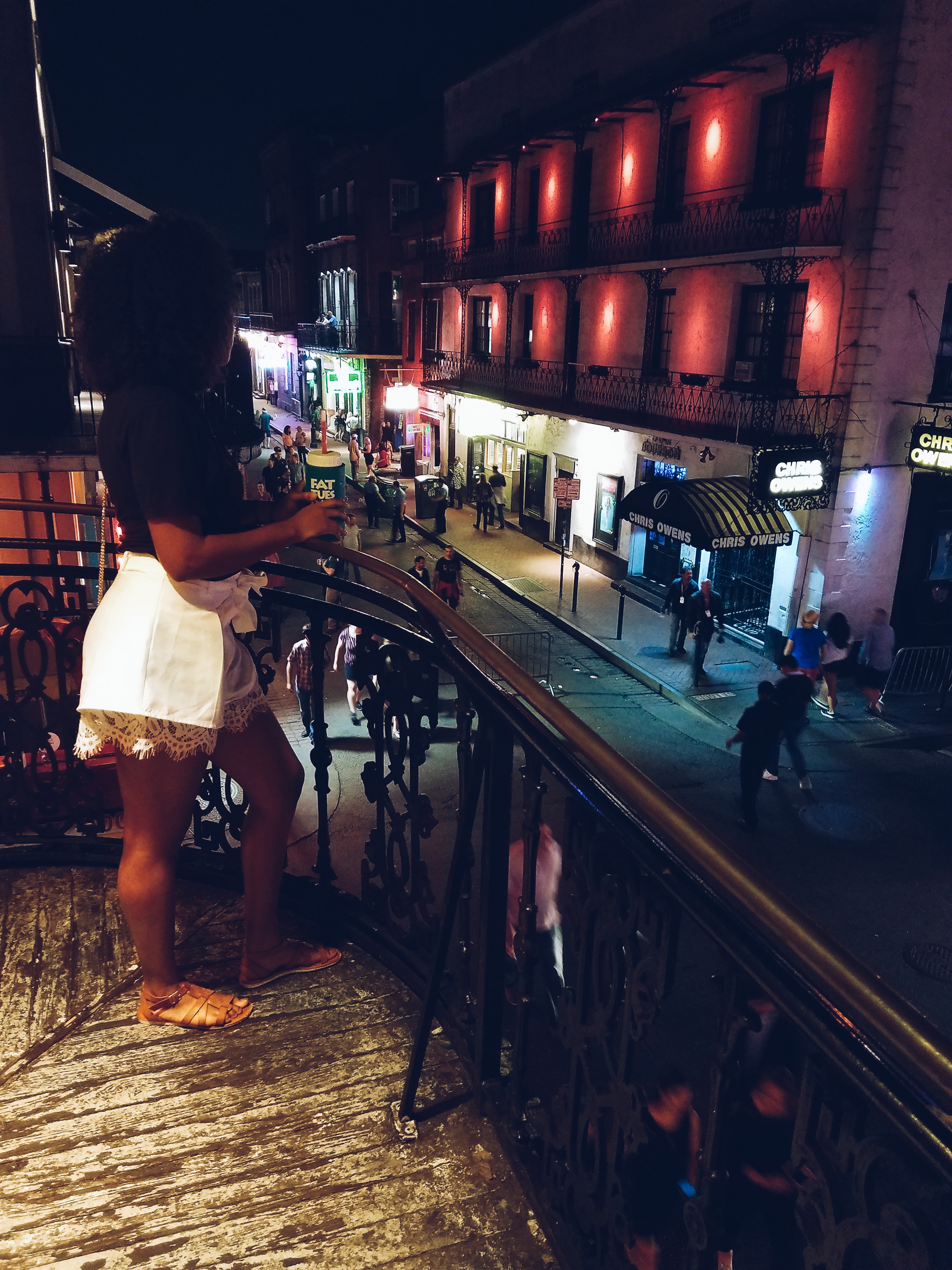 Once the plantation tour wrapped up (which was around 12:30), we were dropped off at our Airbnb location and we relaxed for the rest of the afternoon since the tour was fairly intense. At around 7pm we got ready to head out to the French Quarter and see what the Bourbon nightlife had to offer.
Bourbon street at night is unlike anything I've ever seen. Since there is an open-container law in Louisiana, you see people walking up and down the street drinking. Every building you pass is playing different types of music and you can freely walk in and out of any bar, or club, without having to pay a cover charge. I saw all walks of life out from older citizens to babies – I saw plenty of baby carriages and people walking around with their baby strapped to their chest, while they were drinking
. Experiencing the nightlife in Bourbon is definitely a must!