Café du Monde vs. CAFÉ BEIGNET: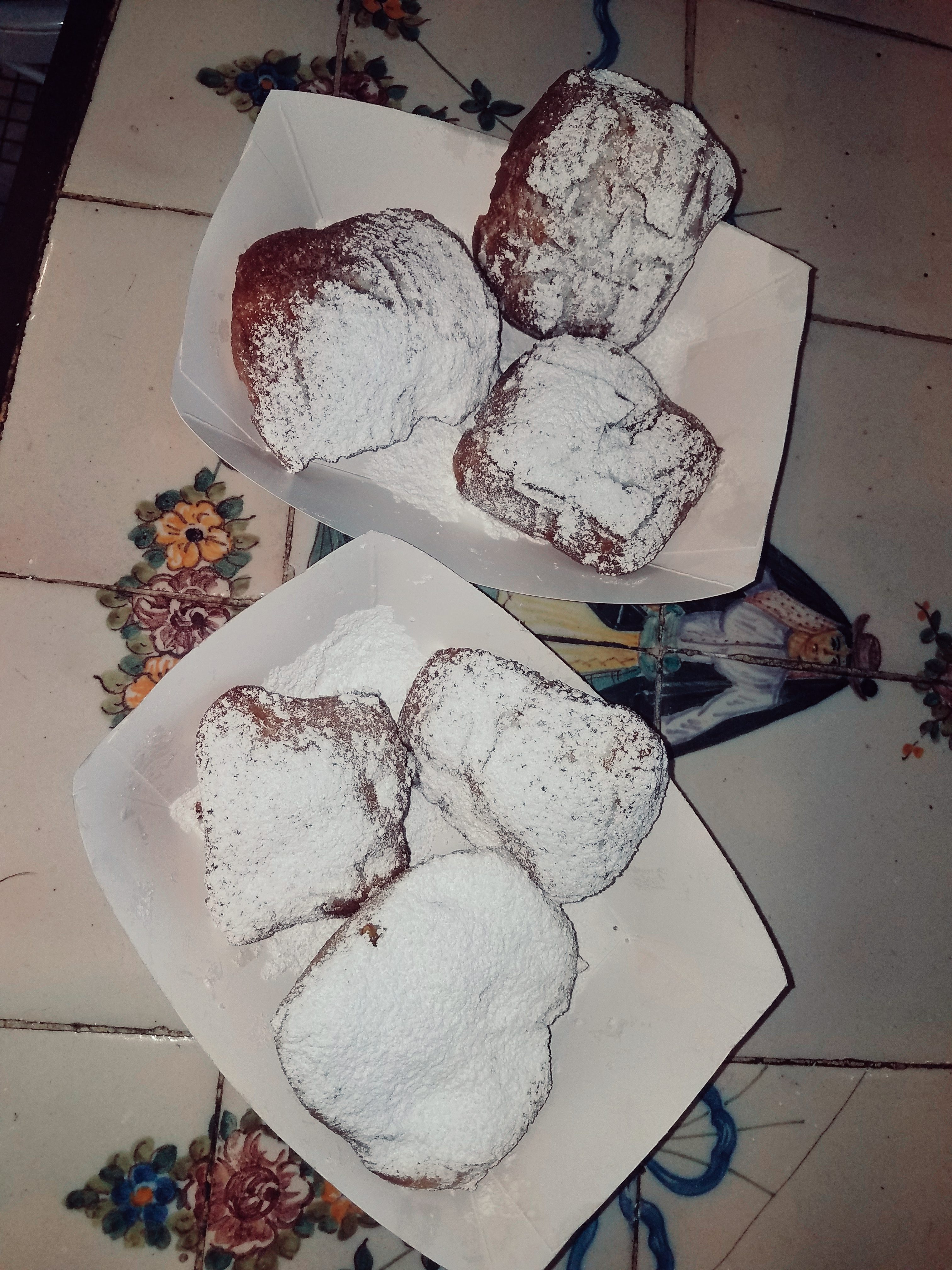 After sleeping in all morning, we got ready to get some beignets! A beignet (pronounced ben-yey) is a french term for a pastry and is basically a fritter. It isn't uncommon in New Orleans to eat a beignet for breakfast.
We took a Lyft ride to Café du Monde thanks to some recommendations I had heard from friends, and because it's one of the most popular beignet spots in NOLA. But while in the Lyft, our driver suggested Café Beignet – he explained that he found the atmosphere at Café Beignet a lot chiller. It wasn't overrun by tourists and it wasn't overrated. We finally made it to Café du Monde and soon realized how crowded and bustling it was. Confused on how to get a table since there's several doorways to get in, I asked a waitress if we could sit anywhere and she nodded. So we took a seat inside and upon reading the menu realized it was cash only. By this point we were completely turned off by Café du Monde and decided to go to Café Beignet instead. Only a 9 minute walk from Café du Monde, we arrived and ordered 3 beignets for $3.99 (I believe that's $1 more than Café du Monde). I've heard that the beignets at Café Beignet are bigger than Café du Monde – I also realized that Café Beignet provides more breakfast/brunch options (my friend loved their omelette). So is Café du Monde or Café Beignet better? I can't say, but based on atmospheres, I would rather go back to Café Beignet.
---
CANAL STREET:
In a food coma from the beignets, we walked around and took in the views on Canal Street – a major shopping center in New Orleans. We took in the warm weather while watching trolleys drive down a palm tree-lined street. We decided to headed back to the Airbnb to chill for the rest of the afternoon and get rid of our hangovers from the night before.
---
CAJUN SEAFOOD:
Hours later hunger struck us again so we went to a place called Cajun Seafood – a seafood restaurant (the name probably gave that away
) that was literally a 5 minute walk from our Airbnb.
You can order Po' boys, crawfish, catfish, oysters, crab legs, cajun fries, gumbo, shrimp and so much more! There are four locations in New Orleans, so you'll have plenty of opportunities to eat at one of their locations. I ordered 3 lbs of crawfish (which was roughly $16, or $4.99 per lb), this should be more than enough for 2-3 people to share and leave with a full belly. The crawfish had just the right amount of spice and flavor – it was truly addictive! You have the option to eat at the restaurant, or you can eat it at home.