I received my second SheaMoisture 📦 which included the Manuka Honey & Yogurt Hydrate + Repair line. I was so excited to test out this line and I've been 👀 this one since it came out!
The box included a SheaMoisture brand ambassador t-shirt, shampoo brush, and five products from their Manuka Honey & Yogurt Hydrate + Repair line. I've tested these products for a few weeks now and wanted to share my review on the line overall, and each individual product. I'll be reviewing the products in order, based on the steps SheaMoisture suggested to me in a booklet. The Manuka Honey & Yogurt Hydrate + Repair line is available at Ulta Beauty.
Key Ingredients in the Manuka Honey & Yogurt Hydrate + Repair line:
Manuka Honey: Helps provide moisture and boost shine.
Yogurt Extract: Adds nourishing moisture to your hair.
Mafura Oil: Softens and promotes healthy-looking hair.
---
Shampoo & Conditioner
Shampoo:
Gently cleanses and reduces breakage on heat-styled hair up to 76%. It begins the process of repairing hair by gently cleansing, hydrating and strengthening strands from root to tip. Blended with organic Shea Butter, reparative Manuka Honey and Yogurt in an enriching formula that replenishes moisture to dry, brittle strands, while promoting a healthy shine. Leaves hair feeling stronger and more resilient.
I think this shampoo is 💣! It gave my hair a lot of slip, allowing me to detangle my hair with no problem. The shampoo also lathers really easily, so I didn't have to use a lot of product. Which also made me happy because the bottle is pretty big (10.3 fl oz), so this should last me a while. My hair felt hydrated and cleansed afterwards.
Conditioner: Softens, detangles and reduces breakage on heat-styled hair up to 76%. This conditioner smoothes rough, dry cuticles, fights splits ends and restores vitality to dull, lack-luster hair. Leaves hair feeling stronger and more resilient.
Like the shampoo, the conditioner is hydrating and provides a great shine. However, it didn't provide the same amount of slip as the shampoo did, which I thought was interesting.
Shampoo: It's a bit on the thicker and creamier side for a shampoo. While it's still runny like a normal shampoo, you can just feel the difference in consistency. This might also explain why I didn't need to use a lot of product to lather 🤔? The product itself looks like slick. It's very shiny, makes me feel like I'm pampering my hair.
Conditioner: It's a THICK conditioner. In fact, it feels more like a deep conditioner than a conditioner. Regardless, it didn't take a lot of product to coat my hair, which is nice since this bottle is big too. I think this conditioner could probably be used as a co-wash as well.
---
Protein Power Treatment

Repair damage caused by over-processing in just one use. It helps strengthen strands by reducing breakage up to 76%, fortifies weak strands and combats breakage and split ends to leave hair looking smooth and healthy. Leaves hair soft, supple and irresistibly touchable.
My high porosity hair was brought back to life with this treatment! I felt like my hair was shiny, strong and moisturized after rinsing it out. Since taking the Myavana hair analysis, I've been more aware of products with protein in the ingredients. My hair loves anything with protein, so I wasn't surprised that it fell in love with this product. Each time I used this treatment, I sat under a hooded dryer for 15 minutes. I can't even explain how soft my hair felt afterwards.
It's a THICK product. I know I said the same about the conditioner, but this is for real, THICK. I've turned the jar upset down and no product falls out. Which made me happy as the jar is a little smaller than most SheaMoisture deep conditioning treatments. It just sits there, stale. Also, I was nervous that since it's so thick it'd just sit on top of my hair. But once I ran it through my hair, it melted like butter 😌.
---
Split End Balm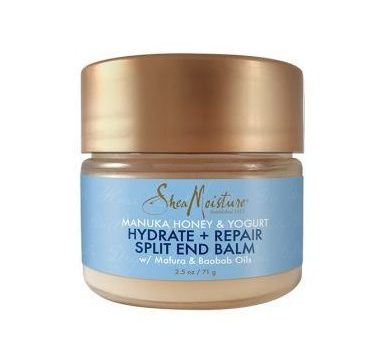 Instantly seals and reduces the appearance of split ends by reducing breakage up to 89%. It has a humidity blocking balm that holds rebellious ends together for a frizz-free, silky smooth finish. Increasing shine and vibrancy and keeping hair looking flawlessly healthy. You're supposed to apply to damp, or dry, hair focusing on the ends. Then you can style your hair as desired.
I'm not going to lie, I was skeptical of this product. I really didn't know what to expect. But, I feel like it has helped to smooth my hair, add shine and reduce the appearance of split ends. Had I not received this split end balm from SheaMoisture, I'm not sure if I would've purchased this product. I'm glad they did though because I do believe it has helped bring life back into my ends.
Probably the most interesting consistency I've ever encountered in a hair product. The split end balm is very wax-like and seems impossible to get the product out. But, with the aid of body heat and consistent rubbing, you're able to get the product onto your finger. Since it's like wax, it kind of feels sticky. But, I noticed that feeling went away once I followed up with the leave-in conditioner.
---
Multi-Action Leave-in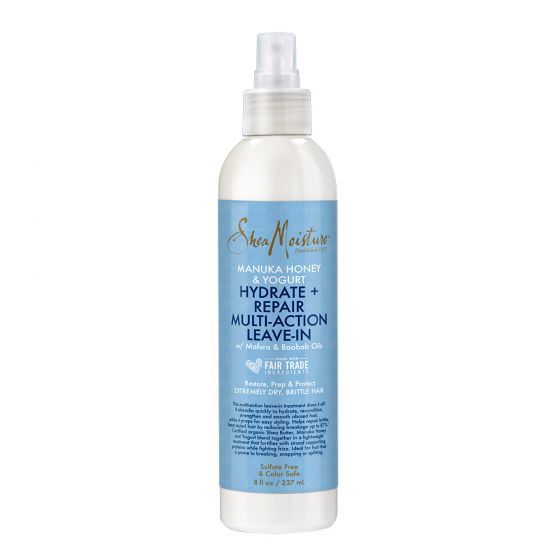 Hydrates, re-conditions, strengthens and smooths damaged hair for easy styling. Helps reduce breakage on heat-styled hair up to 87%. It's a lightweight treatment that fortifies hair with strand supporting proteins while fighting frizz. Ideal for hair that is prone to breaking, snapping or splitting.
This is definitely going to be one of my staple leave-in's. It made my hair easy to detangle, shiny and soft. I definitely think this would be a great leave-in for my high porosity hair in the summer.
Since the leave-in is in a spray bottle, you can guess that it has a light consistency. Since it's lightweight, I can use it to refresh my curls when it's feeling dry or frizzy in the summer months due to the sun and humidity.
---
Overall Review of the Manuka Honey & Yogurt Hydrate + Repair Line
This line left my hair looking shiny, hydrated and seems to have reduced the amount of split ends I had. In fact, I just went to the hair salon for my 3-4 month trim and barely had to get anything cut. I thought I'd had a decent amount of hair trimmed as the cold months really took a toll on my hair. I believe this line had something to do with repairing my hair.
Since my hair is high porosity, it enjoyed all the protein it could get in this line. I think this line would be best for anyone with high porosity hair, or hair that responds positively to protein. It also reminded me of the Manuka Honey & Mafura oil line, so if your hair liked that line, it may like this one as well.
I love the smell of the entire line. It smells like a mixture of baby powder and flowers.
This will definitely be a line I add to my list of favorite products to use! Especially when I'm due for a protein treatment.