As mentioned in my last post, I went to Toronto for a long weekend getaway. Below is a quick guide on how to spend 48 hours in Toronto:
---
Where to Stay:
Downtown, Entertainment District: There's a bunch of Airbnb listings in the Entertainment District. A lot of them are super affordable and provide proximity to many landmarks. I stayed in a studio condo Airbnb*, which sported a beautiful view of the CN Tower. There's also plenty of hotels in the downtown area.
* Confirm your Airbnb check-in time: Our check-in wasn't until 3pm, but we arrive in Toronto at 8am. Prior to leaving for Toronto, I researched places to store luggage and stumbled across a forum with people discussing this. Someone mentioned the Intercontinental Hotel near Union Station would store luggage for a fee. We checked it out when we arrived and was able to have our luggage stored for $5 CAD. They were super cool about it, even though we weren't staying at the hotel. In fact, it looks like they've created a side hustle from storing non-guests baggage.
---
Getting Around:
If you're staying in the downtown area, you most likely can get to your location through the PATH. Public transportation (TTC) is also accessible through the PATH. The first day we mainly walked, but on the second day we took street cars and buses to our destinations. Tokens to get on a street car/bus only costs about $3 CAD. If you're staying in the downtown area, most of your destinations are probably within walking distance. But, if you don't feel like walking, taking public transportation, or biking – you could catch an Uber or cab.
---
What to do:
Nathan Phillips Square: Check out this plaza in downtown Toronto that has a picturesque TORONTO sign. This is a good spot to: eat, people watch, and take pictures with the sign and fountain. We didn't come here at night, but I'd recommend going to see the TORONTO sign lit up. My friend, who's a local, told me that the fountain turns into a ice skating rink during the winter (almost like Frog Pond in Boston).
Kensington Market: A super hipster area, Kensington Market provides: shops, bars and restaurants. Kensington Market is a busy and colorful area filled with street art (aka, my kind of place 😍).
Graffiti Alley: Near Queen Street West, this alley is filled with street art. This is a great place to spend 30 minutes or so, and take photos. You'll see many people walking around taking photos during the day. Graffiti alley is a definite must for anyone who loves art.
CN Tower: While it's certainly a tourist trap and really expensive, it's still cool to get a view of Toronto from above. The CN Tower, also known as the Canadian National Tower, has a restaurant, the EdgeWalk (you couldn't pay me enough to do this) and the Glass Floor.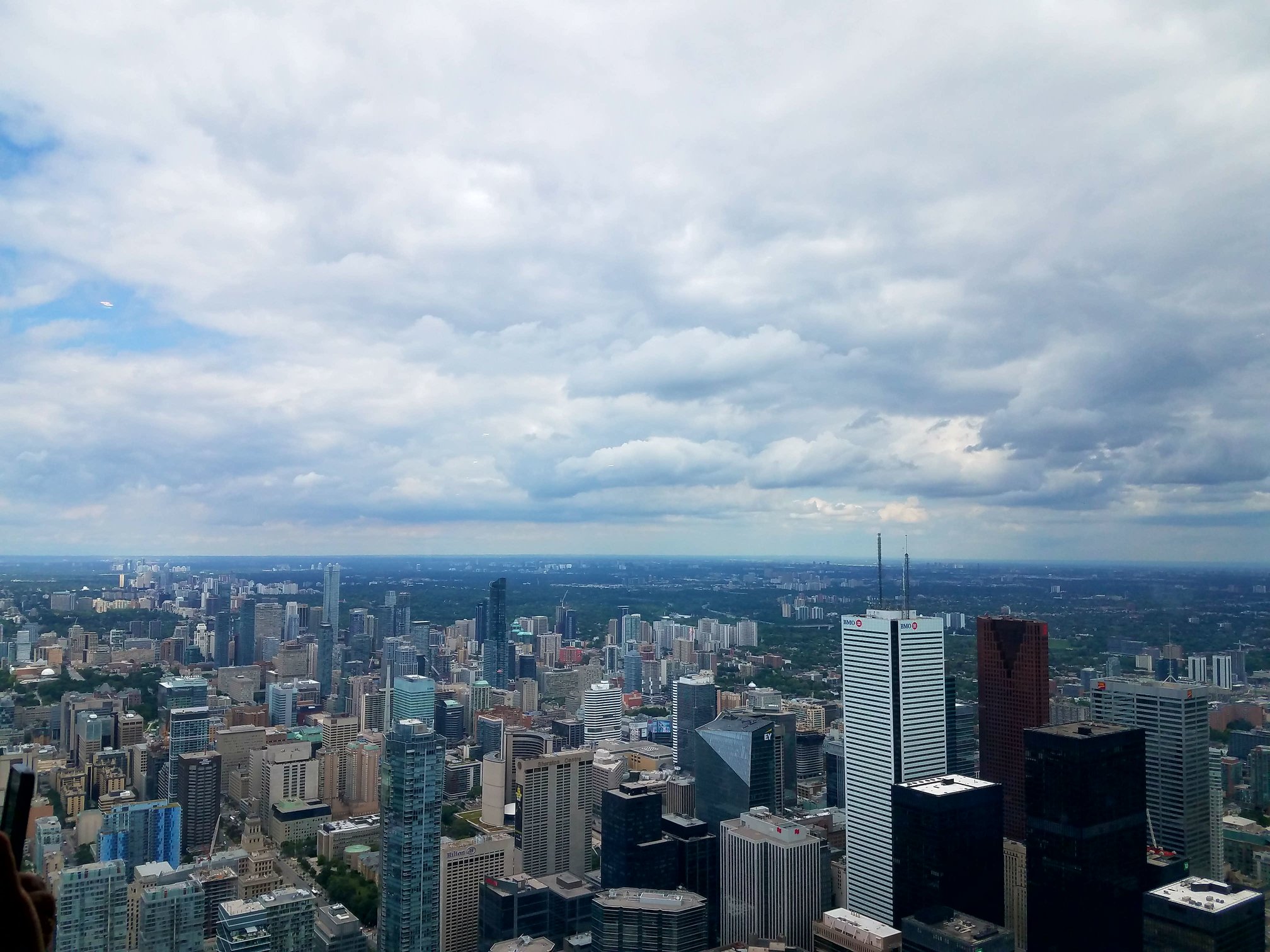 ---
Where to Eat/Drink:
St. Lawrence Market: This market provides fresh produce, meat, seafood – as well as souvenir stores and antique shops. Go on a weekday to avoid the weekend crowd and have a seat at one of the tables outside. There's also restaurants in the market for you to grab food like:

Carousel Bakery: Order the award-winning "World Famous Peameal Bacon Sand­wich" or get their breakfast in a bun, like we did. This delicious peameal bacon, egg and cheese on a bun sandwich is a breakfast must! I got lemonade to accompany my sandwich, which was also delicious. Carousel Bakery is a cash only place.
Smoke's Poutinerie: If you're going to get poutine, I'd highly recommend checking out Smoke's. Located in Kensington Market, this restaurant provides a wide range of toppings for your poutine. You can choose from: bacon, chicken, pulled pork and even vegetarian options. I could barely finish the small poutine box, but it was delicious.
Peace Treats: Located in the Peace Collective Flagship, this is a great place to grab a sweet treat. Their milkshakes are unbelievably delicious. We got the "Go Shawty, It's Your Birthday", which is vanilla milkshake topped with a slice of cake and a lit candle. Peace Treats also sells merchandise like "Home is Toronto" shirts.
Amsterdam Brewhouse: Close to the Harborfront Centre, this restaurant offers beer, delicious food and a stunning view of the CN Tower. We went out to eat on a Friday night, which was somewhat packed. But, we only waited about 20 minutes to be seated outside. We got to see the CN Tower's light show and also saw boats in the harbor. Amsterdam Brewhouse provides many beer and cocktail options; we got the "beer cocktail", which is basically a KLB Raspberry Wheat Sangria. It's mixed with KLB Raspberry Wheat beer, fresh fruit, and your choice of red/white wine.
Tim Hortons: The Dunkin' Donuts equivalent for New Englanders. Tim Hortons is all over Toronto. You can buy a cup of coffee, donuts, smoothies, breakfast sandwiches and more.
---
What were your favorite spots to visit in Toronto? Let me know in the comments!