I planned this trip for months, originally setting out to visit two of my college friends studying for their masters' in Edinburgh. We finally decided to travel to Copenhagen and Berlin, then come to Edinburgh. I wanted to share how to spend 48 hours in Copenhagen based on our experience:
---
Accommodation:
To save money, we split an Airbnb with a private room in the Amagerbro area. It wasn't the most glamorous Airbnb I've stayed in, but was in a good location, had all the necessities, and was very cheap.
Day 1
Things to Do:
Freetown Christiania: From our Airbnb, Christianshavn was a stop away on the metro. However, we decided to walk and stretch our legs, take in the scenery and enjoy the 70° weather. Christianshavn is a neighborhood located on the island of Amager – we first visited Freetown Christiania, which is an autonomous neighborhood inChristianshavn. Many people openly sell and smoke cannabis here. It was an interesting experience walking around and seeing a diverse range of people coming together. Beware that residents in Christiania don't like people taking photos within the community; there are signs that will let you know when not to take photos.
Christianshavns Kanal: The canals were beautiful to look at and definitely picturesque. We began wondering around the canal and ended up in what seems to be a public trampoline park. There were four trampolines built into the ground that people could bounce on. Clearly we had to stop here, who passes up the chance to jump on trampolines?
Rosenborg Castle Gardens: En route to Torvehallerne (you'll learn about below), we stumbled upon the Rosenborg Castle Gardens, which is the oldest park in Copenhagen. There were beautiful flowers that began to bloom and tree-lined avenues in the park.
---
Day 2
Things to do:
Nyhavn: A canal that has an abundance of food options and attractions. Nyhavn's atmosphere was lively with live music, ice cream, crepes, kids running around and more. This is where we did our hour boat tour for roughly $12. The history of Copenhagen is discussed on this tour and you get to see landmarks around the city, such as the Little Mermaid.
Round Tower: After visiting Nyhavn, we decided to go to the Round Tower to get an expansive view of the city. The entry fee to enter the Round Tower is very cheap (25 DKK/~ $3.25).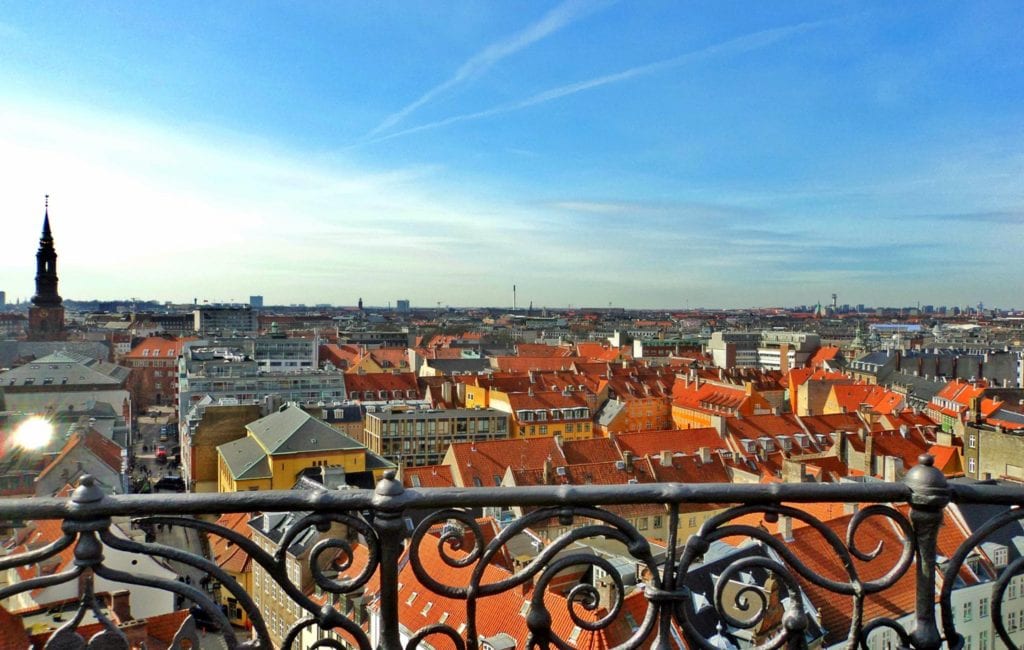 University of Copenhagen Botanical Garden: The botanical garden is free and provides a collection of plants. You can go inside the greenhouse and/or walk around outside. Unfortunately, the inside was hosting a private event at the time the went. We did get to walk around the outside which offered beautiful flowers, plants and views.
Strøget: Shopping center in Copenhagen, Strøget offers fashion stores, food, souvenir shops and more.
Nightlife:
Café Lystig: This local pub was two doors down from where we were staying. A basic pub, Café Lystig provided: cheap booze, proximity and good American music. The bartender offered us a free shot and snacks before his shift ended and the patrons were friendly.
---
What to Eat/Drink:
Torvehallerne: This market reminded me a lot of the Mercado de San Miguel in Madrid. Like Mercado de San Miguel, the Torvehallerne market is made out of glass and inside you have a variety of food options to choose from – including: cheese, fresh bread, cold pastas, seafood, wine, pastries and much more. We went to Torvehallerne both days. On day one, two of my friends and I decided to get fish & chips; my vegan friend got a delicious platter of vegetables. On day two, we grabbed a loaf of bread, different type of cheeses, fruits and vegetables to make a food platter, with wine, for dinner. We got this cranberry cheese that was unbelievably delicious, it taste like cream cheese filled with cranberry chunks.
Strøgb Geriet: On day two we started the day by grabbing breakfast from a local bakery named Strøgb Geriet, I got a plain roll of bread with cheese and butter – which was phenomenal. The bread was soft on the inside and crusty on the outside, and there was just enough butter and cheese to support the bread .
Baresso Coffee: I got a cup of coffee at a well-known coffee shop in Copenhagen, named Baresso Coffee. The coffee shop was right across the street from the bakery.
---
Is there anything you'd add to this Copenhagen travel guide? Let me know in the comments!