While planning a trip to Edinburgh, I decided to book a flight to Barcelona. Having been to Spain before, but missing out on visiting Barcelona, I figured this was the best time to visit. Even if that meant traveling by myself.
I'm sharing how to spend 48 hours in Barcelona based on my experience:
---
Accommodation:
Black Swan Hostel: Located not too far from Plaça de Catalunya, Black Swan is a great hostel to stay in and meet others. I was fortunate enough to share a room with three girls that I vibed with. I also met really cool people during our paella and sangria dinner the hostel hosted. Black Swan offers free daily walking tours, cooking classes and more.
---
Day 1
What to see/do:
La Rambla: An open-air mall filled with: clothing, food, souvenir stores and more. When walking around La Rambla, you'll notice different side streets to venture off to. These streets have more stores and food to explore (hence why you often here the name in plural form, Las Ramblas). I shopped at a few of my favorite clothing stores in Spain (e.g. Stradivarius and Pimkie) and got souvenirs.
Plaça Reial: A square adjacent to La Boqueria Market. I sat on the ledge of the water fountain and ate, enjoyed the warm weather and people-watched.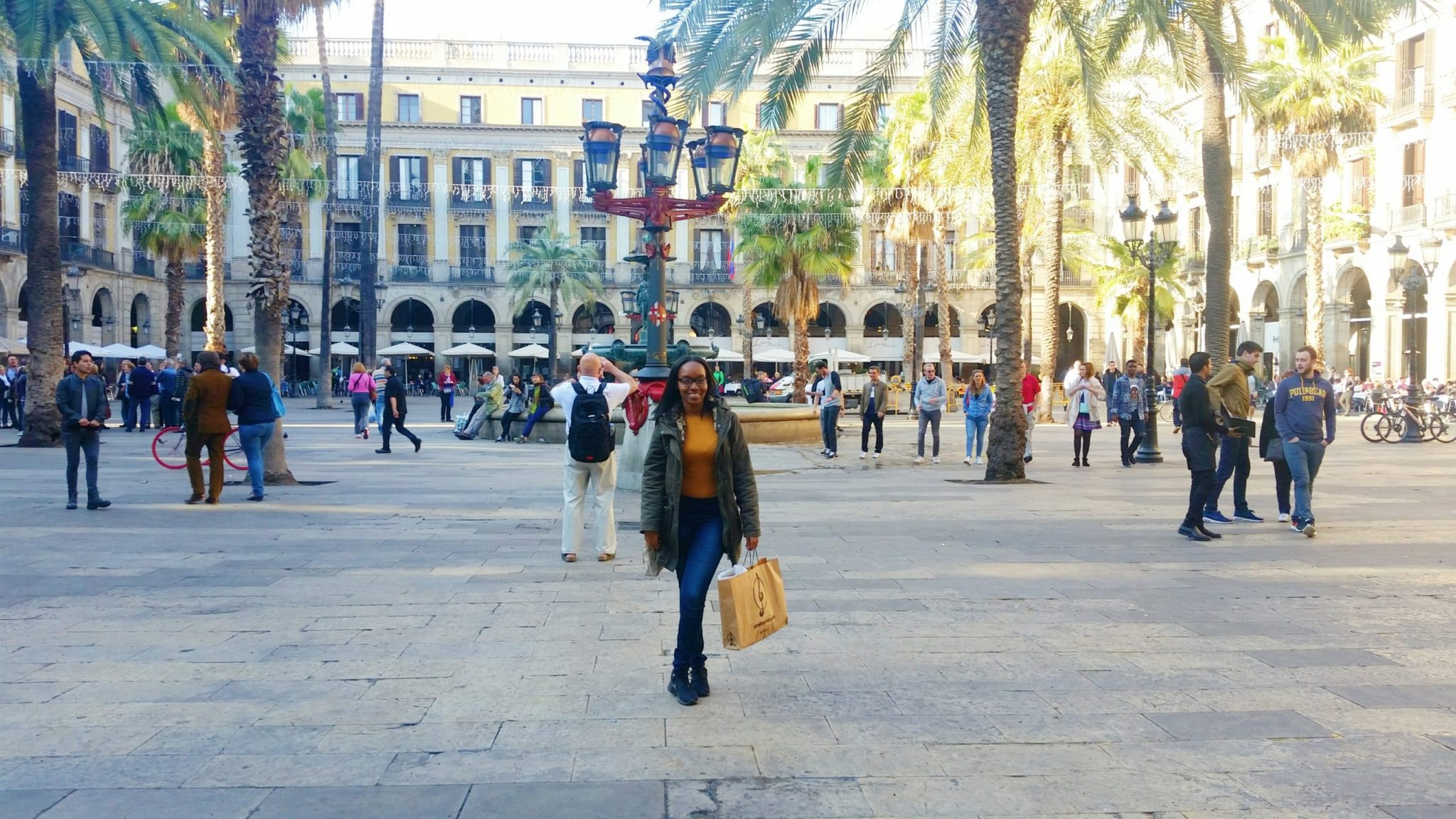 ---
Day 2
What to see/do:
Life of Gaudí Tour: Since my hostel provided free daily walking tours, I decided to take their Gaudí tour. My guide wasn't the greatest. He was clearly drunk from a bar crawl he guided the night before. I did, however, learn some important things:

All of Gaudí's work was inspired by: nature, religion, ceramics and animals. Gaudí's father worked as a boilermaker which inspired his use of ceramics.
Gaudí didn't care to get paid for any of his work, he was more invested in creating perfect architecture.
Solely dedicated to his work, Gaudí never had a wife or children.
His first work for Barcelona were lampposts in Plaça Reial.
When working on the Sagrada Familia, Gaudí moved into the church to focus on it full-time. One day, Gaudí took his daily stroll to church for prayer, when he was hit by a tram. Not keeping up with his appearance, Gaudí was left on the street for days as he was perceived as a beggar. Gaudí was eventually taken to a hospital, but died a few days later. His remains were buried in Sagrada Familia.
The works of Gaudí that we visited:
Palau Güell: Gaudí's, and his families, residence in Barcelona.
Casa Batlló: Also known as the "House of Bones" because of the skeletal design. Gaudí was hired to work on the building. Casa Batlló is located on the most expensive and fashionable street in Barcelona, Passeig de Gràcia; think stores like Versace, Jimmy Choo, Chanel, etc.
Casa Milà: Also known as La Pedrera, this residential building is on the same street as Casa Batlló. Since people live in the residence, my guide explained that it wasn't worth the entrance fee to go inside. This building was the last work designed by Gaudí for Barcelona. Once the building was completed, the apartments were rented out to families. These families still reside there, four generations later. But, my guide says an insurance company now owns the building and won't allow the next generation to stay. After the 4th generation passes away, that will be the end of their tenure.
La Sagrada Familia: Probably Gaudí's most famous work. This church has been under-construction for more than a century and projected to finish in 2030. Barcelona has continued to work on the church thanks in part to tourism and donations. There's three facades for the church that are being completed in sequence – The Nativity, Passion and Glory Façade.
Park Güell: A park built by Gaudí. You may want to book your ticket in advance to enter this park. While most of the park is free, you'd have to pay for some of the "picturesque" parts.
---
Where to eat/drink:
100 Montaditos Urquinaona: A 5-minute walk from my hostel, 100 Montaditos Urquinaona serves small sandwiches, fries, sangria and more.
La Boqueria Market: Also known as Mercat de Sant Josep de la Boqueria. La Boqueria Market is right off of La Rambla and offers a diverse range of goods. The market reminded me of Torvehallerne, Mercado de San Miguel and Faneuil Hall. The only difference is that La Boqueria Market isn't enclosed like the other three markets. Vendors are everywhere you turn selling: fruit, seafood, meat, smoothies, nuts, candy, cheese and more. This place is perfect if you can't commit to a single dish, or if you need fresh food to cook for a meal.